Can Pura Vida
Cala Carbo
This place is made to surround you with luxury and comfort in a beautiful, peaceful setting. Modern Ibiza with a Balinese touch makes this colourful interior put an instant smile on your face. Outside, you won't tire of the clear blue sea view. Relax on the soft luxurious lounge beds around the pool, read a book on the gigantic cushioned lounge sofa... or have a drink around the outdoor fireplace? The choice is yours!
Discover the peaceful bay of Cala Carbo or be enchanted by the magical sunset at El Carmen. Feast on the tastiest paella with a breathtaking view of Es Vedra: 100% Ibiza, 100% Pura Vida!
Availability & booking
How do I book my Covered house, how do I pay, how does the arrival work & how do I book extras?
Price per week
27 Dec - 31 Dec

Minimal number of nights: 3

€9,380.00 p/w

01 Jan - 06 Jan

Minimal number of nights: 7

€9,380.00 p/w

01 Apr - 30 Apr

Minimal number of nights: 7

€6,500.00 p/w

01 May - 31 May

Minimal number of nights: 7

€7,000.00 p/w

01 Jun - 30 Jun

Minimal number of nights: 7

€8,500.00 p/w

01 Jul - 31 Jul

Minimal number of nights: 7

€10,000.00 p/w

01 Aug - 31 Aug

Minimal number of nights: 7

€10,000.00 p/w

01 Sept - 30 Sept

Minimal number of nights: 7

€8,500.00 p/w

01 Oct - 31 Oct

Minimal number of nights: 7

€7,000.00 p/w
Services
Standard you get with every house a final cleaning, bed linen, and bath towels. But you can of course add much more services to your booking. Look below at a selection of services that we can arrange for you.
Always at Covered
Peace of mind

We are here for you. For you it is vacation, we arrange what is needed. Also if there are problems.

Concierge

There is more than a beautiful house. Any place can be an experience, and we can make your trip even more complete.

Surprise & Delight

We are real experts in our field. With over 10 years of experience, a vast network, and knowledge of all the unique places, we know how to provide the best service.
Enhance your stay with a unique experience from one of our preferred providers. Choose from a range of options to make your stay even more special—from professional in-house chefs to luxury boats, luxury cars, and personal trainers.
Location
Beach: 1.1 km
Supermarket: 0.5 km
Ibiza Town: 20 km
Airport: 18 km
Live like a local, discovering the best hidden gem restaurants, walks and attractions during your holiday.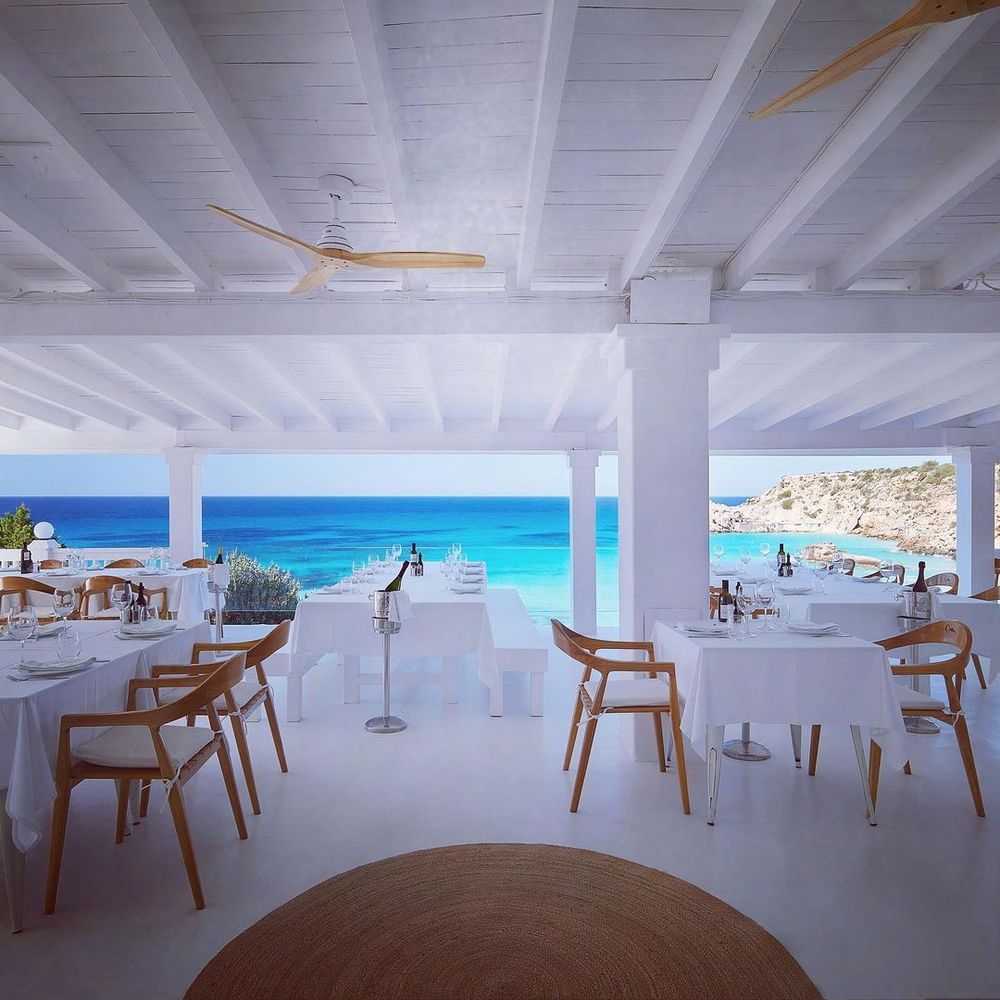 Cotton Beach Club
Overlooking the beautiful bay of Cala Tarida, this fancy beach club is truly a gem. A stylish white interior, lovely lounge beds on the beach and good food. From sushi to fresh fish, with a cold glass of rosé, enjoy an amazing sunset here with your company.
More information about this villa
Cancellation
Within 24 hours after booking you can cancel free of charge. After that there are cancellation costs.
Each cancellation must be communicated as soon as possible by e-mail and will incur costs. In case of No Show, the costs amount to 100% of the rental price and no refund will be made. The costs for cancellation are calculated as follows:
more than 42 days before arrival: The amount of the deposit: 30% of the total price.
between 42 and 28 days before arrival: 60% of the total price.
from 28 days before arrival: 100% of the total price.
It is not possible to exchange a house at a later time for another house. The cancellation policy remains in force.
Payment
Pay 30% at booking and the remaining 70% 6 weeks before departure
Reviews
How have other guests experienced this house?
(Translated by Google Translate)

Booking a holiday through OneVillasIbiza is a must!

Jan Kleijweg
1/0
Item 1 of 9
Follow us on Instagram!